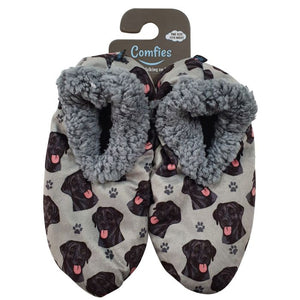 Only 1 left in stock. Order now!
Keep your feet cozy with a touch of paw-someness every time you put on these adorable Labrador slippers! These black dog slippers are as cute as can be, featuring black labs printed on super soft plush fabric. A fleece construction helps your feet stay nice and warm, while the low cut design makes it easy to put them on and off and wear them with anything from joggers to leggings and shorts. The funny print celebrates your best friend and adds a pinch of dog themed cuteness to your loungewear line up!
A must-have addition to any of your at-home outfits, they are machine washable and able to be tossed in the dryer for easy care. You'll appreciate the nonslip grippers that allow for easy walking on slippery floors. Available in One Size that fits shoe sizes 5-11, they also make for a great gift for a dog person!
Ship in 24 hours. Arrive in 4 business days.
Size: One Size; Fits Shoe Size 5 to 11
Material: Soft Plush
Love these Labrador slippers for adults? Click here to see more gifts for dog lovers!
Hassle FREE Returns! If it's not bark-tastic, you can return it for free.
The Bark-tastic Gifts For Dog Lovers
Shop dog themed clothing that give back to dogs.
Get ready to unleash your love for dogs and add a howl-arious touch to your outfits with our line up of dog themed clothing! From funny dog shirts to comfy dog themed sweaters, socks with dogs on them, dog print leggings, and dog themed sweatshirts, we have everything you need to put together the paw-fect dog lover outfit. This dog themed apparel also makes a great choice for a functional and funny dog person gift. So pick one of these adorable dog themed clothes and let everybody know that you're seriously obsessed with dogs!
Woof! Some of our best sellers are our dog t-shirts. These unisex dog themed shirts are great for both men and women. All of these dog lover shirts feature a unique dog inspired design and come in sizes S-XL or S-3XL. They are pre-shrunk and run true to size, so you can rest assured that your dog graphic tee will not shrink or get damaged in the washing machine. Our dog t-shirts for adults are made of a soft cotton blend, giving you just enough stretch for all-day comfort and breathability for all-year wear. The classic t-shirt silhouette and U-neck design are paired with funny dog-inspired sayings, dog graphics, and dog prints to put your furry friend on display.
In addition to our dog lover t-shirts, we also have a selection of dog themed sweatshirts and doggy sweaters to keep you warm in the cooler months. With their all-over dog print and funny dog inspired designs, these long-sleeve dog shirts are great for layering during the summer and giving you extra warmth during the colder months.
Our dog themed outfits also include a variety of doggy loungewear, like dog pajamas for women, dog socks for adults, dog slippers, and dog leggings for women. These loungewear essentials are so soft and comfy, tempting you to wear them all-day every day. They also make for cute dog-themed gifts.
And don't forget that for every $25 you spend, we provide a healthy meal to a shelter dog, so you can enjoy this dog motif clothing while helping dogs in need. So let's wag our tails in style and spread some bark-tastic joy with our dog themed clothing collection!