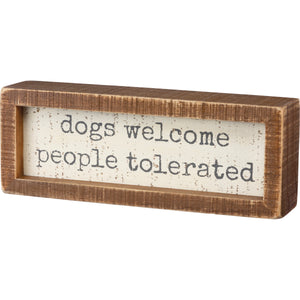 Only 1 left. Shop now!
Pick this dogs welcome sign for a witty and funny addition to your entryway décor! Featuring the words "Dogs Welcome People Tolerated", this funny dog sign sums up the house rules in a dog loving home! Whether you hang it on the wall or place it on an entry way table, it immediately stands out. Your guests will chuckle every time they catch a glimpse of it.

Made from wood and featuring a funny inscription, this dog sign makes for a great dog themed gift for a dog person with a sassy sense of humor!
Ships in 24 hours. Arrives in 4 business days.
Size: L 10", W 3"; H 1.75
Material: Wood
Love this dogs welcome sign? Click here to find more funny gifts for dog people!
🎉 Hassle FREE Returns! If it's not bark-tastic, you can return it for free. Yep, no need to beg or roll over for it!

You Shop. We Give. They Bark.

Shop dog home décor and a portion of your woof-chase goes to help shelter dogs.

Add bark-sonality to your space with our selection of dog themed home decor. Browse our selection of dog kitchen towels that will make any chore a tail-waggin' breeze. These dog themed tea towels are absorbent and soft, paw-fect for keeping your countertops drool-free and for drying hands and dishes. They also make great housewarming gifts for dog lovers and can be paired together as a fetching set. Machine-washable and gentle on your skin, these towels with dogs on them turn a kitchen staple into a hilarious conversation piece.

Time to unleash your sense of humor with our funny dog mugs that will have you and your guests howling with laughter every time you use them. From all-over dog prints to hilarious dog-inspired sayings, these dog lover mugs make cool dog owner gifts, too. Most of them are dishwasher and microwave safe, making them paw-sitively paw-fect for easy everyday use.

Oh, and calling all culinary canines! We've got a fetching array of adorable dog themed kitchen accessories and cool dog things for dog people. Dog kitchen timers that let you know when your treats are ready, dog fridge magnets that stick around to brighten your day, dog cookie cutters that'll have you wagging your tail in delight, and dog spatulas for flipping some tasty bones in the pan! Plus, our best-selling dog ice cube mold will keep your drink delightfully cool while showcasing your favorite furry friend.

Now let's unleash the wag-tastic charm on your walls with our selection of unique dog wall décor. Wooden dog inspired signs and hand-crafted clay dog wall art will create a cozy, tail-waggin' vibe in any room and put your sense of humor on display. These dog wall decorations are paw-some gifts for new dog owners, guaranteed to leave their tails wagging with joy!

But wait, there's more outdoor paw-someness! Your patio will get a dog-gone fabulous update with our dog garden décor. Dog flower pots and dog-shaped planters, along with dog garden figurines and dog wind chimes, will create a paw-sitively warm welcome in your outdoor space. Your backyard will become the ultimate doggy playground!