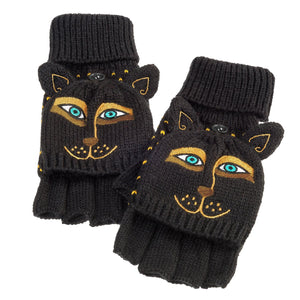 Introducing the ultimate accessory for dog lovers who want to match their furry friends in style – the "Canine Chic" Dog Mittens!
Tired of feeling left out when your pup struts their stuff in their fashionable winter wear? Say goodbye to chilly jealousy and hello to pawsitively fabulous fashion with our black dog mittens. These mittens are designed to keep you warm and laughing all season long!

Crafted with the finest black acrylic fabric, these mittens will make you feel as cozy as a pup curled up by the fire. And that's not all – we've added an embroidered dog face to each mitten, so you can experience the joy of puppy kisses every time you slip them on. It's like having a mini canine companion right at your fingertips!

But wait, there's more! Our innovative flap design brings a whole new meaning to interactive accessories. Need to answer your phone, sip on a hot cocoa, or simply scratch your nose? Just flip open the adorable flap, and voilà – your fingers are free to tackle life's most pressing tasks, all while showing off your furry friend's face.

Whether you're taking a leisurely stroll in the park, posing for a picture-perfect Instagram moment, or engaging in an epic snowball fight, these Dog Mitten Mitts will keep you cozy, connected, and chuckling. After all, who says humans can't embrace their inner doggo with a dash of style and a whole lot of humor?

So don't let your dog have all the winter fun – snag a pair of "Canine Chic" Dog Mitten Mitts today and strut your stuff with canine charisma. It's time to raise the paw-ge on your winter wardrobe!
Ship in 24 hours. Arrive in 4 business days.
Material: 100% Acrylic
Size: One Size
Love these dog mittens for women? Click here to see more gifts for dog lovers!
Hassle FREE Returns! If it's not bark-fect, you can return it for free.
You Shop. We Give. They Bark.
Shop dog gifts for women and a portion of your bark-chase goes to help shelter dogs.
From dog jewelry for women to dog themed clothing, accessories, and dog home décor - we offer a variety of unique dog themed gifts for women. You can add gift wrap and a note card to any of these dog lover gifts for women and ship it directly to the recipient in 24 hours. The best part - for every $25 you spend, we provide a healthy treat to a shelter dog.
Looking for a traditional dog inspired gift for her? Our variety of dog necklaces, dog pendants, dog shaped earrings, and rings offer style, elegance, and bark-sonality that will please any dog enthusiast. A mixture of metals, beads, and chew-tastic stones make these handcrafted dog jewelry pieces unique and timeless, something she will enjoy wearing for years to come. All our dog themed jewelry for women comes in doggy-approved boxes and is ready for gifting.
Check out the variety of dog home decorations for a fun and practical dog themed gift. Dog dish towels, dog lover mugs, rugs, kitchen accessories, and a variety of cool dog themed knickknacks add a bark-tastic touch to a dog lover's home and bring a fun wag into their space.
Colorful prints and funny designs come together in our collection of dog lady clothes and accessories. Dog bags and wallets have traditionally been some of our best-selling dog themed gifts for women. Dog print socks and tees, on the other paw, are a staple in everyone's closet and are a great choice if you're looking for something they will wear often. Finally, lounging is elevated by our super soft, comfy, and stretchy dog pajamas for women. Get ready for doggy dreams like never before!