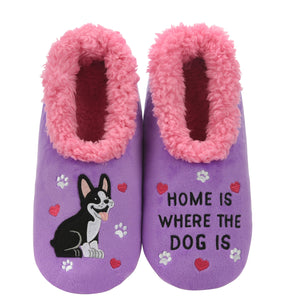 Only 6 left. Shop now!
Slip into this fun pair of dog themed slippers and you'll be all set for cozy nights snuggling on the couch with your favorite pooch! These dog slippers for adults come in sizes 5-10. Designed with sherpa trimmed uppers, they feature the embroidered words "Home Is Where The Dog Is". Embellished with a playful pup, paw prints and hearts, these super soft plush slippers will keep your feet warm and snuggly throughout the day. Perfect to slip on when you are tired and want to pamper your feet with something soft and comforting, they put the fur-ever love of your life on display and remind you that home is where your loving pup is.
Looking for a fun and unique dog themed gift? These slippers for dog lovers are sure to be an everyday favorite!
Ship in 24 hours. Arrive in 4 business days.
Size: 5/6, 7/8, 9/10
Material: Soft Plush
Love these dog lover slippers? Click here to see more dog themed gifts and accessories!
Hassle FREE Returns! If it's not bark-fect, you can return it for free.
You Shop. We Give. They Bark.
Shop dog gifts for women and a portion of your bark-chase goes to help shelter dogs.
From dog jewelry for women to dog themed clothing, accessories, and dog home décor - we offer a variety of unique dog themed gifts for women. You can add gift wrap and a note card to any of these dog lover gifts for women and ship it directly to the recipient in 24 hours. The best part - for every $25 you spend, we provide a healthy treat to a shelter dog.
Looking for a traditional dog inspired gift for her? Our variety of dog necklaces, dog pendants, dog shaped earrings, and rings offer style, elegance, and bark-sonality that will please any dog enthusiast. A mixture of metals, beads, and chew-tastic stones make these handcrafted dog jewelry pieces unique and timeless, something she will enjoy wearing for years to come. All our dog themed jewelry for women comes in doggy-approved boxes and is ready for gifting.
Check out the variety of dog home decorations for a fun and practical dog themed gift. Dog dish towels, dog lover mugs, rugs, kitchen accessories, and a variety of cool dog themed knickknacks add a bark-tastic touch to a dog lover's home and bring a fun wag into their space.
Colorful prints and funny designs come together in our collection of dog lady clothes and accessories. Dog bags and wallets have traditionally been some of our best-selling dog themed gifts for women. Dog print socks and tees, on the other paw, are a staple in everyone's closet and are a great choice if you're looking for something they will wear often. Finally, lounging is elevated by our super soft, comfy, and stretchy dog pajamas for women. Get ready for doggy dreams like never before!