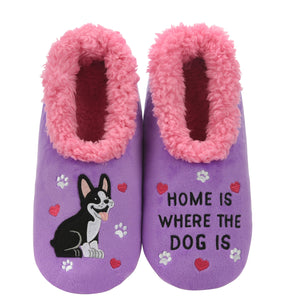 Only 6 left. Shop now!
Slip into this fun pair of dog themed slippers and you'll be all set for cozy nights snuggling on the couch with your favorite pooch! These dog slippers for adults come in sizes 5-10. Designed with sherpa trimmed uppers, they feature the embroidered words "Home Is Where The Dog Is". Embellished with a playful pup, paw prints and hearts, these super soft plush slippers will keep your feet warm and snuggly throughout the day. Perfect to slip on when you are tired and want to pamper your feet with something soft and comforting, they put the fur-ever love of your life on display and remind you that home is where your loving pup is.
Looking for a fun and unique dog themed gift? These slippers for dog lovers are sure to be an everyday favorite!
Ship in 24 hours. Arrive in 4 business days.
Size: 5/6, 7/8, 9/10
Material: Soft Plush
Love these dog lover slippers? Click here to see more dog themed gifts and accessories!