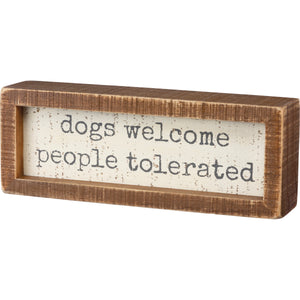 Only 1 left. Shop now!
Pick this dogs welcome sign for a witty and funny addition to your entryway décor! Featuring the words "Dogs Welcome People Tolerated", this funny dog sign sums up the house rules in a dog loving home! Whether you hang it on the wall or place it on an entry way table, it immediately stands out. Your guests will chuckle every time they catch a glimpse of it.

Made from wood and featuring a funny inscription, this dog sign makes for a great dog themed gift for a dog person with a sassy sense of humor!
Ships in 24 hours. Arrives in 4 business days.
Size: L 10", W 3"; H 1.75
Material: Wood
Love this dogs welcome sign? Click here to find more funny gifts for dog people!