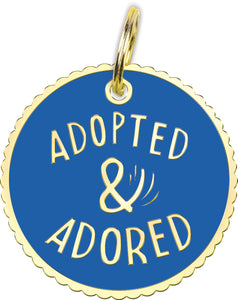 Adopted and adored? Absolutely! Put your unconditional love on display with this adorable dog collar charm! Featuring the words "Adopted & Adored" printed in a playful font on a round blue pendant, this collar charm underlines the fact that your dog is much loved, adored and appreciated. Light yet sturdy, it can withstand years and years of rough and tumble play. Equipped with a gold metal split ring to attach to a collar, it brings a pop of color to your pup's everyday essentials. The perfect everyday accessory for your adorable pooch, it adds a personal touch to your dog's must-haves.

Ships in 24 hours. Arrives in 4 business days.
Size: 1.25" Diameter
Material: Metal, Enamel
Love this funny pet collar charm? Click here for more unique dog toys and accessories!