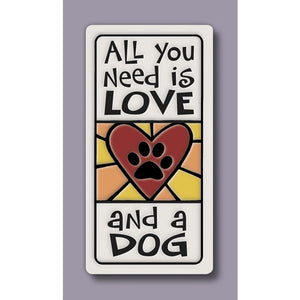 Add a pinch of paw-sitivity to your home décor with this cute dog magnet! Featuring the words "All You Need Is Love And A Dog", this dog refrigerator magnet reminds you to stay focus on the important things in life - love and dogs! A paw-some way to display all notes, pictures and reminders, this clay magnet is strong and compatible with any magnetic surface. Handmade by dog lovers for dog lovers, it brings a pop of color and a unique accent to your space. Whether you're decorating your kitchen or keeping your home office organized, it is an instant mood booster!

Ships in 24 hours. Arrives in 4 business days.
Size: 3.25" by 1.5"
Material: Clay
Love this dog magnet? Click here to see more unique dog themed home décor!