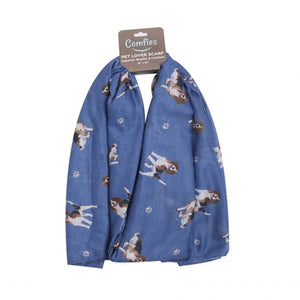 Only 2 left. Order now!
Crazy about beagles? Then you'll love this adorable beagle print scarf! Featuring playful beagle pups printed on a soft blue fabric, this dog print scarf adds some paw-someness to any of your outfits. Comfy and versatile, it is an year round staple, a dog themed accessory you'd want to keep handy in the cooler summer nights and in the unpredictable fall weather alike. Great as a dog themed gift for a loved one, it is made of soft lightweight fabric that complements beautifully anything from a work blazer to a laid-back blouse and a comfy top.
The playful print and vivid colors immediately stand out and turn it into an eye-catching statement piece that is sure to make an impression. Cute and comfortable, it is something you'll wear time and time again and consolidate your image as a dog person!
Ships in 24 hours. Arrive in 4 business days. 
Love this dog print scarf? Click here to see more dog themed accessories.