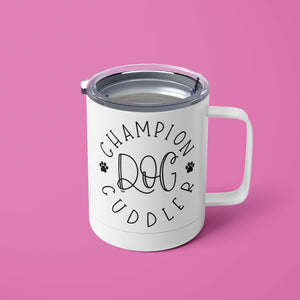 If your super power is being the best dog cuddler out there, then this funny dog tumbler is the ulti-mutt travel buddy! With a 15 ounce capacity, this stainless steel dog lover tumbler lets everybody know that you haven't met a dog you didn't want to pet. Featuring the words "Champion Dog Cuddler" playfully printed on both sides, it is the perfect accessory for enjoying your coffee on the go. Sure to make you chuckle every time you use it, it has a unique design that immediately stands out and reveals your favorite pet and gives you a boost of paw-sitive energy along with much needed caffeine!

Made from stainless steel, it is dishwasher safe and comes with a plastic lid for added convenience on the go. Use it every day at home, in the office and during your commute, or pick it as a funny dog themed gift for a loved one!
Ready to ship in 24 hours. Arrives in 4 business days.
Material: Stainless Steel
Capacity: 15 ounces
Love this dog tumbler? Click here for more funny things for dog lovers!