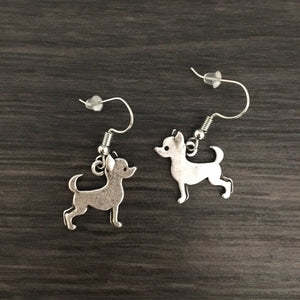 Add a pinch of your pup's playful spirit to your everyday looks with these adorable chihuahua earrings! Silver toned, light and comfortable, these dog shaped earrings are the ulti-mutt everyday accessory. The perfect choice when you're looking for versatile jewelry you can put on and leave on, they bring an eye-catching detail to casual and formal outfits alike. Elegant and charming, they make for a beautiful dog inspired addition to your jewelry box! Their subtle design makes them easy to coordinate with virtually any of your necklaces. They stand out with both short and long hair dos, pony tails and messy buns alike, and put your fun style and dog loving personality on display!
Looking for a unique dog themed gift for a loved one? These beautiful earrings are sure to be a hit!
Ship in 24 hours. Arrive in 4 business days.
Material: Silver Plated Steel
Size: L 0.7"; H 0.8"
Love this dog themed earrings? Click here to see more jewelry for dog lovers!