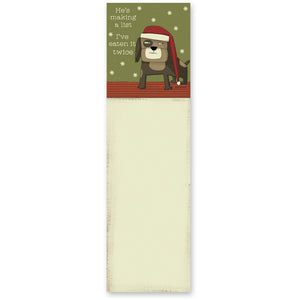 Only 2 left. Shop now!
Keep track of who's been naughty or nice with this Christmas Dog notepad! Whether its shopping lists, reminders, or notes, this dog themed notepad helps you stay organized during the how-lidays. The front features a funny dog in a Santa hat and the words "He's Making A List, I've Eaten It Twice" printed on a snowflake backdrop. The back is equipped with a strong magnet, so you can place it on your refrigerator, filing cabinet or cube and keep it out of reach of your curious playful pup. Great as a dog themed Christmas gift for a loved one or as a new addition to your dog themed Christmas accessories, it helps keep you organized during this busy time of the year, all while keeping your mood upbeat, festive and paw-sitive! Sure to make you hum the classic Christmas tune every time you use it!
Ships in 24 hours. Arrives in 4 business days.

Size: 9.50" by 2.75" by 0.25"
Material: Paper, Magnet
Love this Christmas dog notepad? Click here to find more dog themed Christmas gifts!