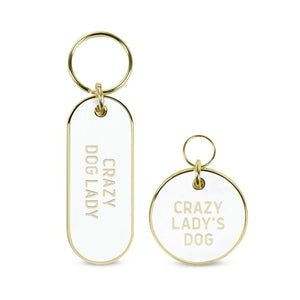 Treat yourself and your favorite pup to a matching accessory with this funny crazy dog lady keychain set. Featuring a keyring with the words "Crazy Dog Lady" and a matching dog collar charm with the words "Crazy Lady's Dog" printed in gold lettering, this cute set celebrates the connection you have with your fur baby. You will love the simple yet catchy design, the lightweight construction and the soft warm colors. The glittery gold finish brings just the right amount of glam and sparkle to your everyday accessories while the fun saying immediately stands out and turns it into an eye-catching accessory for both you and your dog.
Looking for a fun dog themed gift? This dog lady keychain is cute, functional and sure to make you chuckle every time you see it!
Ships in 24 hours. Arrives in 4 business days.

Love this crazy dog lady keyring? Click here to see more unique things for dog owners.