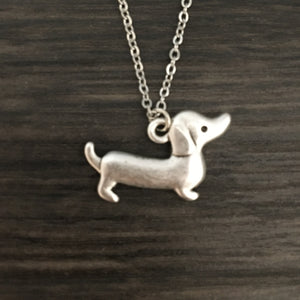 Make a charming dog inspired update to your jewelry collection with this stylish Dachshund necklace! This beautiful short necklace features a silver tone chain and a Dachshund pendant, displaying your favorite pet in a subtle and stylish way. Suitable for both casual and dressy outfits, it is light and paw-some for everyday wear. Great as a dog themed gift for a loved one, it is sure to be an year round favorite!
You will love the sweet Dachshund pendant with a tail happily wagging and a face ready for treats! The ulti-mutt finishing touch to everything from a comfy tee to a formal blouse and blazer, it adds a fun twist to any of your looks.
Pair these earrings with matching Dachshund earrings for a complete dog lover set!
Ships in 24 hours. Arrives in 4 business days.
Material: Silver Plated Steel
Size: L 0.5"; H 1"
Chain Length: 18"
Love this dachshund necklace? Click here to see more dog themed gifts!
Hassle FREE Returns! If it's not bark-tastic, you can return it for free.
You Shop. We Give. They Bark.
Shop dog lady gifts, and a portion of your bark-chase goes to help shelter dogs.
Drum roll, please - crazy or not, you'll love these funny dog lady gifts! From casual dog lady shirts to fancy dog lady jewelry, we have all you need to put your love of dogs on display! If you're on the prowl for the best dog lady gifts, we've got you covered. Let's start by taking a quick sniff at our dog lady tees - fun, comfy, and a year-round favorite, these dog themed t-shirts are some of the most practical crazy dog lady gifts out there. A variety of colors, designs, and sizes (we cover S-3XL) mean that you have a lot to choose from. One thing is certain, we always bet on premium soft fabric that will not shrink or stretch, and catchy designs that will make any dog lady howl with laughter. A practical option is also our dog lady socks - we have a variety of dog inspired socks that come in one size fits all, making them great for gifting.
Dog jewelry pieces make some of the best dog lady gifts. We have carefully curated dog lady necklaces, dog earrings (studs, drop or hoops), dog rings, and adorable dog jewelry trays and ring dishes to choose from. These unique dog lady presents come in boxes ready for gifting and bring a fun and playful twist to her everyday jewelry collection.
Some of our most popular dog lady gifts combine wine and dogs, books and dogs, or coffee and dogs, as dog ladies are multi-faceted creatures that have many different interests (we speak from bark-sonal experience on this one, trust us)! From funny dog bookmarks to hilarious dog lady coffee mugs and dog kitchen accessories and bar knickknacks, these dog gifts make for great stocking stuffers, white elephant dog themed gifts, and birthday gift additions.
For a funny yet functional dog lady gift, check out our selection of dog home décor. The dog themed dish towels have always been our customer's favorite, as they add bark-sonality to a kitchen staple. The dog doormats and dog flower pots also work great and will be used for years to come. Our dog themed stationery makes a great dog gift for teachers or coworkers, too.
Having trouble deciding? Pick a Pup-Card or a physical one and let her choose! After all, dog ladies know best purr sure! The best part - these dog gifts give back! For every $25 you send, we provide a healthy meal to a shelter dog. Now that's a gift every dog lady would love! 🐶💕