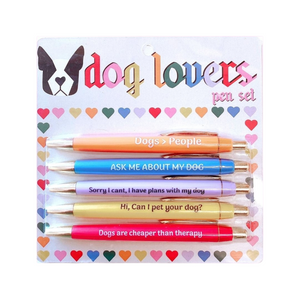 Spread joy and dog inspired sass with these dog ink pens. This set of dog lover pens includes five pens that read "Dogs > People", "Ask Me About My Dog", Sorry I Can't I Have plans With My Dog", "Hi, Can I Pet Your Dog" and "Dogs Are Cheaper Than Therapy".  These dg themed pens are like a party on the page where smudges aren't invited. Brilliant color ensures your writing will be bright and filled with fun. Encased in a comfort grip, these dog lover gel pens have a smooth style that keeps the joy and creativity flowing as fast as your thoughts. 
Ship in 24 hours. Arrive in 4 business days.
Material: Plastic
Ink Color: Black
Love these dog ink pens? Click here to see more dog themed stationery!