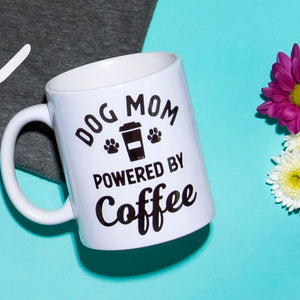 Whether you're enjoying a relaxing morning or getting ready to take on another day, this funny dog themed mug gives you a much needed boost of caffeine and paw-someness! Featuring the words "Dog Mom Powered By Coffee", this dog mom mug helps you kick start your day and brings a unique accent and dog themed humor to your coffee mug collection. The playful text and cute design will get you going even when you don't really want to get out of bed. Delivering coffee, positive go-getter attitude and, let's face it, probably dog hair, it keeps you energized and ready to face whatever the day may bring!
Looking for a unique and funny gift for a dog person? This hilarious mug is the ulti-mutt dog themed gift for any family member, friend or co-worker who loves dogs!
Dishwasher and microwave safe.

Ships in 24 hours. Arrives in 4 business days.
Capacity: 15 ounces
Material: Ceramic
Love this cute dog coffee mug? Click here to see more dog themed home décor!