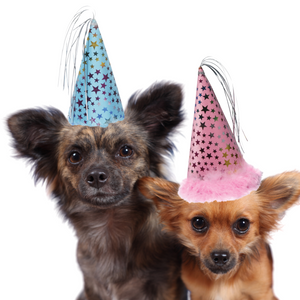 Celebrate your fur-ever friend's big day with this dog party hat! Available in pink and blue, this dog birthday hat comes with an adjustable elastic that fits easily under your dog's chin. It is easy to slip it on and it is soft and comfortable, keeping your dog happy and comfy. Printed with an all-over golden star print and trimmed with fluffy feathers, it adds a little bit of bling and a whole lot of excitement to your dog's birthday celebration!
Ships in 24 hours. Arrives in 4 business days.
Size: For pets under 25lbs
Features: Adjustable elastic fits easily under your dog's chin.
Love this dog birthday party hat? Click here for more funny dog costumes!