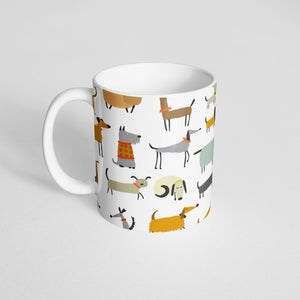 Bring a splash of color and a pinch of dog inspired cuteness to your daily routine with this dog print coffee mug. Whether you're waking up to a freshly brewed cup of coffee or settling in for the night with relaxing sips of tea, this dog mug is as pretty as it is practical. Decorated with a variety of dog breeds, it immediately stands out and takes a prominent spot in your mug collection. Comfortable and sturdy, it brings a pop of color to your space and complements beautifully any home décor style.

Whether you're treating yourself to a new go-to mug or picking it as a sweet and thoughtful dog person gift, it is the drinkware option you'll surely choose every time you sip on your favorite hot beverage!
Microwave and dishwasher safe.

Ships in 24 hours. Arrives in 4 business days.

Capacity: 11 ounces
Material: Ceramic
Love this dog print coffee mug? Click here to see more dog person gifts!