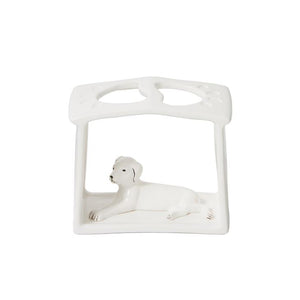 Add a fun dog loving spirit to you bathroom vanity with this beautiful dog toothbrush holder. Featuring a cute white pup comfortably resting at its base, this dog themed toothbrush holder brings some dog friendly motif to your home essentials. Light, sturdy and sure to make an impression, it is made of white dolomite, matching easily any counter top, tile color and bathroom accessory. Great as a fun yet functional gift for a dog person, it lends an adventurous and unique dog loving spirit to your bathroom essentials!

Ready to spruce up your bathroom décor? Check out this matching dog themed shower curtain and dog bath rug for a complete set!
Ships in 24 hours. Arrives in 4 business days.
Size: 4" by 4.75" by 2.5"
Material: Dolomite
Love this dog toothbrush holder? Click here for more dog themed bathroom décor!