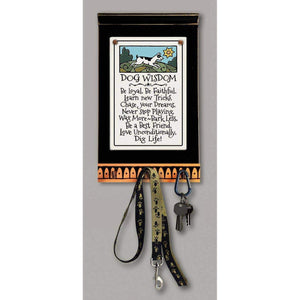 Be loyal. Be faithful. Learn new tricks. Chase your dreams. Never stop playing. Wag more, bark less. Be a best friend. Love unconditionally. Dig life! Now these are house rules we can get behind! This funny dog wall art sums up your dog's recipe for a good life. And we definitely wish some of this dog wisdom can rub off on us! Pick this dog wall art as a useful reminder to follow in your dog's footsteps and make the most out of your day. It does double duty as a key holder and features 3 metal hooks, perfect for hanging keys, leashes and anything lese you need handy by the door. Place it in your entry way, living room or gallery wall for a unique home décor accent you'll love.

Handmade from clay, it brings a touch of inspiration and an artistic style to your space. A must-have home décor addition for people who love dogs, it also makes for a great dog themed gift for a loved one.
Handmade in Wisconsin from durable fade-proof and water resistant materials suitable for both indoor and outdoor display.
Ships in 24 hours. Arrives in 4 business days.
Size: H 11"; L 6.5"; W 1"
Material: Clay
Love this dog wall art? Click here to see more unique things for dog owners.