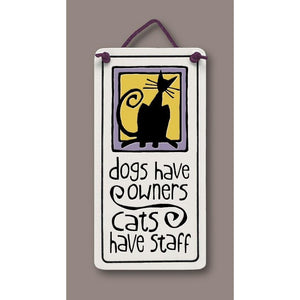 Dogs have owners, cats have staff - a true statement that every pet owner can attest to! If your cat has you trained to bring treats, serve the perfect portions, keep her bowl always full and do just about anything short of fetching her mice and your dog is the sweetest pup ever, then this funny Dogs Have Owners Cats Have Staff wall art is a must-have! Handmade in Wisconsin from durable fade-proof and water resistant materials, this pet themed wall art is suitable for both indoor and outdoor display. An eye-catching addition to your gallery wall, entry way or porch, it is a great pick to give your wall a personalized and unique look.
Whether you're looking for a funny gift for an animal person or trying to spruce up your home décor, this lovely piece will add a pop of color, creativity and fun to any space!

Ships in 24 hours. Arrives in 4 business days.
Size: 4" by 2.25"
Material: Clay
Love this dog lover wall art? Click here to see more dog themed home décor!