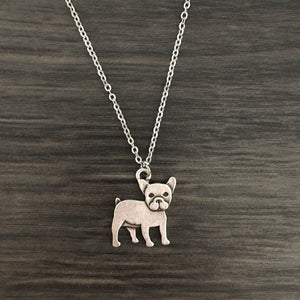 Add charming Frenchie flair to your everyday ensembles with this beautiful Frenchie necklace. Silver toned, light, and comfortable for all day wear, this dog shaped necklace is the ulti-mutt everyday jewelry piece. Once you put it on, you can leave it on, knowing that it will complement beautifully any of your looks - from more formal work outfits to casual ensembles. You can style it with virtually any earrings and wear it on its own or layer it with other necklaces. Cute, stylish, light and irresistibly dog themed, it is very versatile and sure to be your go-to accessory all year round!

Add it to your jewelry line up or pick it as a gift for a fellow dog owner and enjoy some Frenchie charm wherever you go!
Ships in 24 hours. Arrives in 4 business days.
Material: Silver Plated Steel
Size: L 0.7"; H 0.7"
Chain Length: 18"
Love this Frenchie necklace? Click here to see more dog themed jewelry!