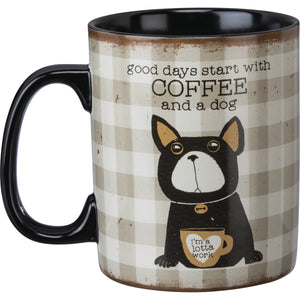 Only 2 left. Shop now!
Start your day off right with this funny dog mug! Featuring a double-sided "Good Days Start With Coffee And A Dog" sentiment and a rustic design, this generously sized dog mug offers 20 ounces of much-needed caffeine and paw-sitive attitude. It features a cute pup and the text "I'm A Lotta Work", adding an extra pinch of cuteness to your morning coffee ritual. Microwave, oven, dishwasher and food safe, this large coffee mug makes even the busiest of days easier to handle. Take it with you to the office or add it to your collection of coffee mugs at home - it will make sipping on your favorite beverage a more pleasant and relaxing experience and will help you tackle whatever the day may bring.

Looking for a fun yet functional dog themed gift? This coffee mug is sure to be a hit! Large enough to satisfy even the most caffeine craving dog lovers, it has a fun and unique design that immediately stands out!
Ships in 24 hours. Arrives in 4 business days.
Capacity: 20 ounces
Material: Stoneware
Love this dog person mug? Click here to see more dog themed gifts!