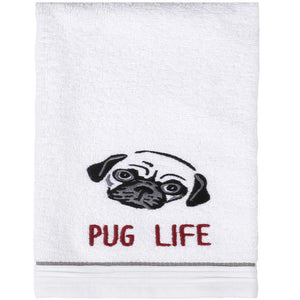 Only 2 left. Order now!
It's a pug life, and with this hilarious dog hand towel your bathroom décor will reflect that! Made of 100% soft and absorbent cotton, this dog print hand towel displays an adorable pug face and the words "Pug Life" on a super soft white cotton. A fun yet practical addition to your bathroom essentials, it easily matches any bathroom style and accessories. Hang it on a towel rod or place it neatly on your bathroom counter to create functional and decorative use.
Great as a dog themed gift for a loved one, it is gentle on your skin and makes drying easy and pug-life breezy! Whether you use it independently or mix and match it with the rest of your bath towels, it perfectly complements your unique dog-loving style.
Machine washable. Ships in 24 hours. Arrives in 4 business days.
Size: 16" by 25"
Material: 100% Cotton
Love this dog print bath towel? Click here for more dog themed bathroom décor!
Hassle FREE Returns! If it's not bark-tastic, you can return it for free.
You Shop. We Give. They Bark.
Shop dog kitchen décor and a portion of your bark-chase goes to help shelter dogs.
Whether you're looking for paw-some gifts for dog lovers or a hilarious update to your kitchen essentials, these dog kitchen accessories are sure to have you howling with delight. Our dog kitchen décor includes a variety of dog themed kitchen towels, dog lover coffee mugs, dog oven mitts, dog spatulas, dog-shaped cookie cutters, and many more dog themed kitchenware. These adorable dog inspired knickknacks and kitchen must-haves not only make great presents for dog people, but they also add some tail-wagging fun to meal prep and clean up. And trust us, you'll go barking mad for our best-selling dog sponges. These dog shaped sponges are the bark-tastic stocking stuffers you've been looking for!
The kitchen towels with dogs on them are super soft and absorbent, gentle on your hands, and even machine-washable for easy care. Our collection of dog themed coffee mugs features hilarious designs that will have you snorting with laughter every time you take a sip of your coffee. Whether at home or in the office, these dog mugs will become your new favorite companions!
This dog gifts collection also includes many dog inspired home décor knickknacks, like our dog fridge magnets, dog bag clips and doggy-themed napkins, just to name a few. All these dog lover items are carefully selected and made of high-quality materials. They not only make fantastic gifts for dog owners, but they also add a bark-tastic twist to your kitchen and household essentials. And don't forget, they make the perfect Secret Santa dog gifts and dog stocking stuffers!
The best part - for every $25 you spend, we provide a healthy meal to a shelter dog. From your home to theirs - you can showcase your love of dogs while helping dogs in need. So let's paw-ty in the kitchen and spread some doggone joy!