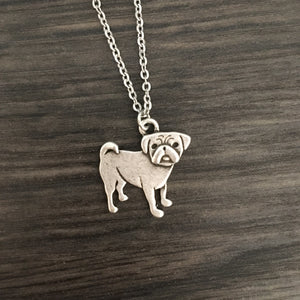 Display your adorable pooch in a sweet and stylish way with this charming pug necklace! With an elegant silver finish, this pug pendant showcases your fur-ever friend and adds a fun accent to any of your looks. It is short and versatile, and can be worn with practically any outfit, either casual or formal.  It hints that you are a dog person and brings an eye-catching finishing touch to comfy tees, dressy blouses and blazers alike. Great as a dog themed gift for a dog owner, it is light and comfortable for everyday wear.

The sweet and delicate design of this necklace easily complements any of your jewelry. Wear it on its own or combine it with other necklaces for a layered look - it will immediately stand out and add some pug magic to your outfits!
Ships in 24 hours. Arrives in 4 business days.
Material: Silver Plated Steel
Size: L 0.7"; H 0.7"
Chain Length: 18"
Love this pug jewelry? Click here to see more dog themed gifts!