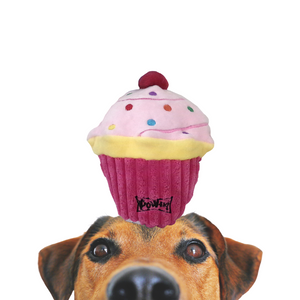 If your dog shares your sweet tooth, she will love this funny cupcake dog toy! The pup-cake is decorated with pink frosting and sprinkles and comes equipped with a squeaker for double the fun! Made of soft plush fabric, it is gentle on your dog's gums, teeth and paws. Make sure you and your dog are camera ready and capture all the hilarious pictures sure to follow!
Perfectly sized to keep large and medium sized dogs entertained, this cute dog toy is soft yet sturdy and durable. Great as a birthday gift for your pup, it will be his favorite treat to chew on!
Ships in 24 hours. Arrive in 4 business days.

Size: 6.5" by 4.5" by 4.5"
Material: Plush, Squeaker
Love this large cupcake dog toy? Click here to see more cute dog toys!
Hassle FREE Returns! If it's not bark-tastic, you can return it for free. Woof-tastic guarantee!
The Bark-tastic Gifts For Dogs And Dog Lovers
Shop funny dog toys that give back to dogs.
Keep your dog entertained and active for hours with these funny dog toys! Equipped with squeakers, crinkle paper, pom poms, and a whole lot of dog-approved props, these hilarious dog toys and accessories are your dog's dream.
Start by checking our selection of funny squeaky dog toys. These dog toys make an irresistible sound sure to satisfy even the pickiest of dogs. The designs of these dog toys are truly hilarious - from our favorite foods like pizza and cookies, to our favorite beverages like beer and coffee, these dog squeaky toys will help you take hilarious pictures of your dogs. Some of our best sellers include dog drink toys, like the dog beer bottle toy and the dog soda bottle toy, the dog champagne bottle toy, and the puppy wine toys. Tried and tested by our two house dogs, Barkley and Bella, these squeaky dog toys will make your dog bounce, pounce, and chew on them for hours. The best part - you get to take tons of funny dog pictures and videos of your dog enjoying these hilarious dog toys. They are made of plush and are gentle on your dog's paws and claws.
For the fashionista dogs, we have a selection of dog tags and dog collars in fun colorful prints. All these dog collars are soft, durable, and equipped with a break-free buckle for your pet's safety. You will love the unique dog collar designs, while your dog will enjoy the comfort. All these dog collars can be combined with our dog bow ties and dog collar tags for the bark-tastic outfit for your canine friend.
We also have a number of dog owner items like dog beds, dog food mats, and dog food bowls that bring comfort to your pet and also add a fun accent to your home. These dog things for dog lovers make great first-time dog owner gifts.