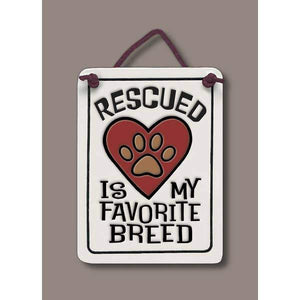 Made for parents of rescued cats and dogs, this Rescued Is My Favorite Breed sign brings a heartwarming note to any space. Suitable for both outdoor and indoor display, it is handcrafted in Wisconsin and made of fade-proof and water resistant materials. As always, for every $25 you spend, we provide a healthy meal to a shelter dog, so together we can help more rescues in need!
Whether you're looking for a thoughtful gift for a dog person or a new addition to your home decor, this dog wall sign is just what you need to add a unique and personalized accent to your home. The soft neutral colors and adorable paw print design bring a simple and delicate touch of paw-sitivity that will look lovely in your living room, foyer, or home office.
Ships in 24 hours. Arrives in 4 business days.
Size: 2.25" by 4"
Material: Clay
Love this dog wall sign? Click here to see more dog themed décor and accessories for dog lovers.