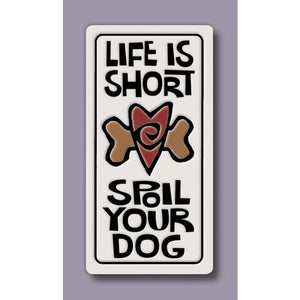 Add a boost of paw-sitivity to even the busiest of days with this funny dog magnet! Featuring the words "Life Is Short Spoil Your Dog", it is the perfect reminder to take it easy and remember that you'll always have a paw-some lap warmer to lean on!

Great for getting your memos, to-do lists and reminders organized, it comes with a strong magnet that holds on multiple surfaces - from your kitchen fridge to your cube's magnetic board. Get it for yourself or as a thoughtful dog themed gift for a loved one and bring a pinch of paw-sitive carpe diem attitude to your daily tasks!
Ships in 24 hours. Arrives in 4 business days.
Size: 1.5" by 3.25"
Material: Clay
Love this dog fridge magnet? Click here to see more unique dog themed décor!