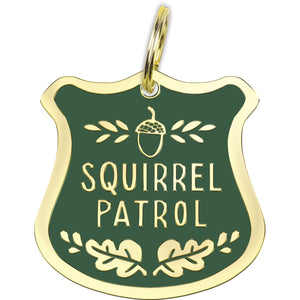 Pick this adorable Squirrel Patrol dog tag for a fun and playful hint that your dog is serious about chasing squirrels! Made of enamel painted metal and featuring the words "Squirrel Patrol", an acorn and leaves printed in gold, this dog collar charm is made for all the persistent squirrel chasers, unstoppable leaf plowers, energetic tree jumpers out there! It is light, comfy, funny and unique. A great addition to your pup's accessories, it proudly denotes your dog's preferred hobby - chasing squirrels! Equipped with a ring, it looks great with just about any dog collar and keeps your pooch comfy throughout the day.

Suitable for both large and small dogs. Ships in 24 hours. Arrives in 4 business days.

Size: 1.25" by 1.25"
Material: Metal, Enamel
Love this funny dog collar tag? Click here for more unique dog toys and accessories!