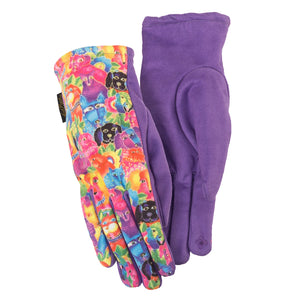 One of our best sellers, these dog print gloves make us look forward to chilly weather and winter months! Forget about frost bite - keep your paws warm and toasty with these adorable dog gloves! Featuring a variety of dogs and puppies and made of soft suede, they will make even your dog envious! The vivid pattern looks great with a variety of outfits and accessories and brings a pop of color to your day even in the gloomiest of seasons.

Decorated with dogs in all shapes and sizes, these dog gloves will be something you love wearing every day. The beautiful design and comfy fabric turn them into a definite dog lover favorite! Available in one size, they also make for a unique and useful dog themed gift!
Ship in 24 hours. Arrive in 4 business days.
Material: 80% Acrylic, 20% Polyester
Size: One Size
Love these dog gloves for women? Click here to see more cute dog themed accessories!