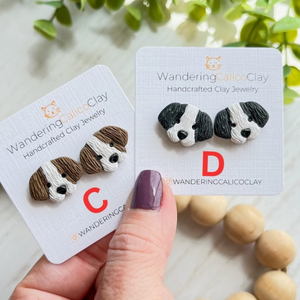 Introducing our Paw-sitively Adorable Dog Face Stud Earrings! 🐶
Are you a dog lover who's always wanted to wear your puppy love on your ears? Look no further, because we've fetched the perfect accessory for you! These handmade earrings are so dog-gone cute that they'll have you wagging your tail with joy.
Crafted with love and care, each earring is shaped like a charming little doggy face, capturing all the cuteness and quirkiness of our four-legged friends. You'll be sporting puppy perfection on your lobes! 🐾
But that's not all, folks! We take your comfort seriously. These earrings are made of high-quality clay, ensuring they're lightweight and comfortable to wear all day long. Plus, they come with lead-free, cadmium-free, and nickel-safe surgical grade stainless steel posts, making them the perfect choice for even the most sensitive ears. No ruff reactions here! 🙉
So why settle for ordinary earrings when you can upgrade your style with some "pawsome" dog-inspired bling? Whether you're a proud pup parent or just an all-around dog lover, these Dog Face Stud Earrings will have you barking with delight.
So, what are you waiting for? Treat yourself or surprise a fellow dog enthusiast with these earrings. Who says diamonds are a girl's best friend when you can have man's best friend on your ears? 🐕💎
Grab your pair today and unleash your inner dog lover in style! 🐩🐾
Ship in 24 hours. Arrive in 4 business days.
Earring Type: Dangle Earrings
Material: Clay; Lead-free and cadmium-free and nickel-safe surgical grade stainless steel posts, which makes them safe for sensitive ears.
Love these handmade dog themed earrings? Click here to see more jewelry for dog lovers!
Hassle FREE Returns! If it's not bark-tastic, you can return it for free. Woof-tastic!
The Paw-fect Gifts For Dog Lovers
Shop dog jewelry for dog lovers for the bark-tastic accessory.
Showcase your favorite pet in a tail-wagging, stylish, and elegant manner with our selection of unique dog jewelry for women. Whether you're looking to update your dog-inspired jewelry line up or searching for the best dog-related gifts for women, these dog-themed jewelry pieces incorporate craftsmanship, high-quality materials, and dog-related designs that every dog lover will drool over.
We have carefully curated dog necklaces and dog pendants that are the paw-fect everyday accessory for women who love dogs. Sterling silver dog necklaces, gold-plated dog-shaped pendants, a variety of gemstones, and hand-painted accents are all used in a paw-some way to create the fur-tastic jewelry for dog lovers. The materials used for these pieces are hypoallergenic, sure to last for years to come, and to keep looking like new season after season. These dog-themed necklaces also make unique dog lover gifts. Whether it's a dog birthday present, a dog-themed Valentine's Day surprise, or a holiday gift for a dog person, these elegant necklaces add a pinch of paw-sonality to any style and can be worn on formal and casual occasions alike. They all come in a box ready for gifting, so you'll have a howl of a time surprising your favorite dog lover!
Our dog earrings collection includes dog stud earrings and dog dangle earrings that bring some canine charm to your everyday ensemble. These dog earrings are light for comfortable all-day wear, so you can wag your tail with joy all day long. Hand-painted designs and hand-crafted details are sure to please every dog lady. These dog-shaped earrings can be easily combined with any of our dog necklaces for a complete dog lover gift set – the ultimate treat for any pup parent!
We also have a few dog jewelry boxes, dog trinket trays, and adjustable dog rings that have been some of our best-sellers through the years. The best part? For every $25 you spend, we provide a healthy meal for a shelter dog. Now that's something to bark about! And if you need a gift in a hurry, add gift wrap at checkout and send it directly to the dog lover in your life - it will arrive in just 4 days! Fast and fur-ious gifting, guaranteed!