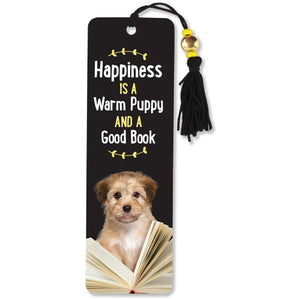 This Happiness Is a Warm Puppy And A Good Book Bookmark is the perfect gift for dog lovers! Its beaded design and cute puppy make it both stylish and special. Made of durable glossy paper, its cheerful message will bring smiles for years to come.
Ships in 24 hours. Arrives in 4 business days.
Material: Paper, Beads
Size: 8" by 3"
Love this dog bookmark? Click here to see more stocking stuffers for dog lovers!
Hassle-FREE Returns! If it's not bark-tastic, you can return it for free!
The Bark-tastic Gifts For Dogs And Dog Lovers
Shop hilarious dog lover gifts that give back to dogs.
If you're on the fetch for the perfect bargain and are looking for inexpensive gifts for dog lovers, check out our selection of dog stuff for dog lovers under $20. This line up of novelty dog themed gifts under $20 includes funny dog themed kitchen accessories, dog lover home décor, dog wall art, dog themed accessories, and oh so many cheap dog lover gifts! Great as tail-wagging stocking stuffers for dog lovers, these adorable dog gifts prove that the bark-tastic gift doesn't have to break the bank. The best part, for every $25 you spend, we provide a treat to a shelter dog, making these dog gifts even more special.
The list of dog lover items under $20 is updated daily. We run sales and promotions regularly, adding new styles all the time, and allowing you to showcase your fur-ever friend and save. But, hurry! These dog-themed best sellers are in limited supply! If you see something you like, grab it now before it's chased away!
Whether it's dog lover décor, dog jewelry for dog lovers, dog shirts, dog bags, dog lover mugs, and many more doggy things for dog owners, we guarantee you'll wag your tail over our products. And if it's not bark-tastic, you can return it for free! Most of our dog-themed products are made in the U.S. by small business owners all over the country. By shopping at puppylovegifts.com, you not only support small businesses, but also help no-kill dog shelters across America to assist dogs in need. Because of the unique paw-made nature of most of our dog items, we only have a few of each. Get your favorite dog gift before it's fetched by someone else!