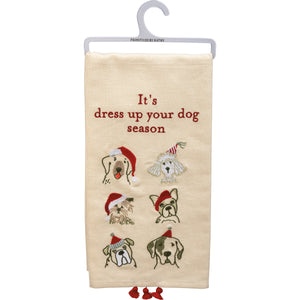 Only 4 left. Shop now!
Add extra joy to the holiday season with this dog Christmas kitchen towel! Featuring the words "It's Dress Up Your Dog Season" and snapshots of six dogs in funny outfits, this dog Christmas towel makes your holiday decorations merry, bright and full of dog themed charm! Decorated with red pompoms for a playful detail you'll love, it is made of soft linen and cotton blend fabric and is machine washable for easy clean up. Soft and gentle on your hands, yet absorbent and great for keeping holiday cooking mess at bay, it will be your faithful companion whenever its time to clean your counter tops or dry the dishes. The festive design coordinates with most kitchen décor to add fun, joy and some puppy love to your kitchen. Pick it for yourself or as a thoughtful dog themed Christmas gift for a loved one and it will be an inseparable part of your holiday essentials for years to come!
Machine washable. Ships in 24 hours. Arrives in 4 business days.
Size: 20" by 26"
Material: Cotton, Linen
Love this dog Christmas towel? Click here for more dog related Christmas gifts!
Hassle FREE Returns! If it's not bark-tastic, you can return it for free. No worries, just wagging tails and happy trails!
The Paw-some Christmas Gifts For Dog Lovers
Shop Christmas gifts for dog lovers that give back to dogs.
Looking for best dog lover gifts for Christmas? We have curated dog lover gift ideas that will please any dog person! These dog presents for Christmas include dog lover décor, dog themed clothing, dog jewelry pieces, and dog lover accessories. And let's not fur-get, for every $25 you spend, we provide a healthy meal to a shelter doggo, so you can shop knowing that you're helping dogs in need this holiday season – that's one paw-some way to spread the holiday cheer!
When it comes to dog themed Christmas gifts, start by checking out our dog Christmas decorations. From dog Christmas tree ornaments to dog candles, dog wall décor, dog stockings, Christmas dog kitchen towels, dog-shaped cookie cutters, and stocking stuffers for dog lovers – we've got it all! These gifts are sure to make tails wag and hearts melt, making them the paw-fect holiday presents for the dog person in your life. We also have adorable dog mittens, dog lover hats, and scarves to keep your loved ones warm and comfy in the winter months while showcasing their fur-ever friend.
Some of our most popular Christmas presents for dog owners are our dog themed kitchen accessories. 'Tis the season to gather together and cook delicious meals, and our dog themed kitchen tools and utensils come to the rescue! Our dog dish towels, dog cooking aprons, and dog paw-shaped oven mitts are also a popular choice for dog related presents for the holidays. Cook like a chef, bark like a doggo!
Looking for dog themed stocking fillers? You can find plenty of unique dog stocking stuffers under $25 in this collection. Most of these dog gifts are handmade in the U.S. and come in limited quantities, so you better fetch your favorite before it's gone! Hurry, you don't want to miss out on this tail-waggingly adorable holiday extravaganza!